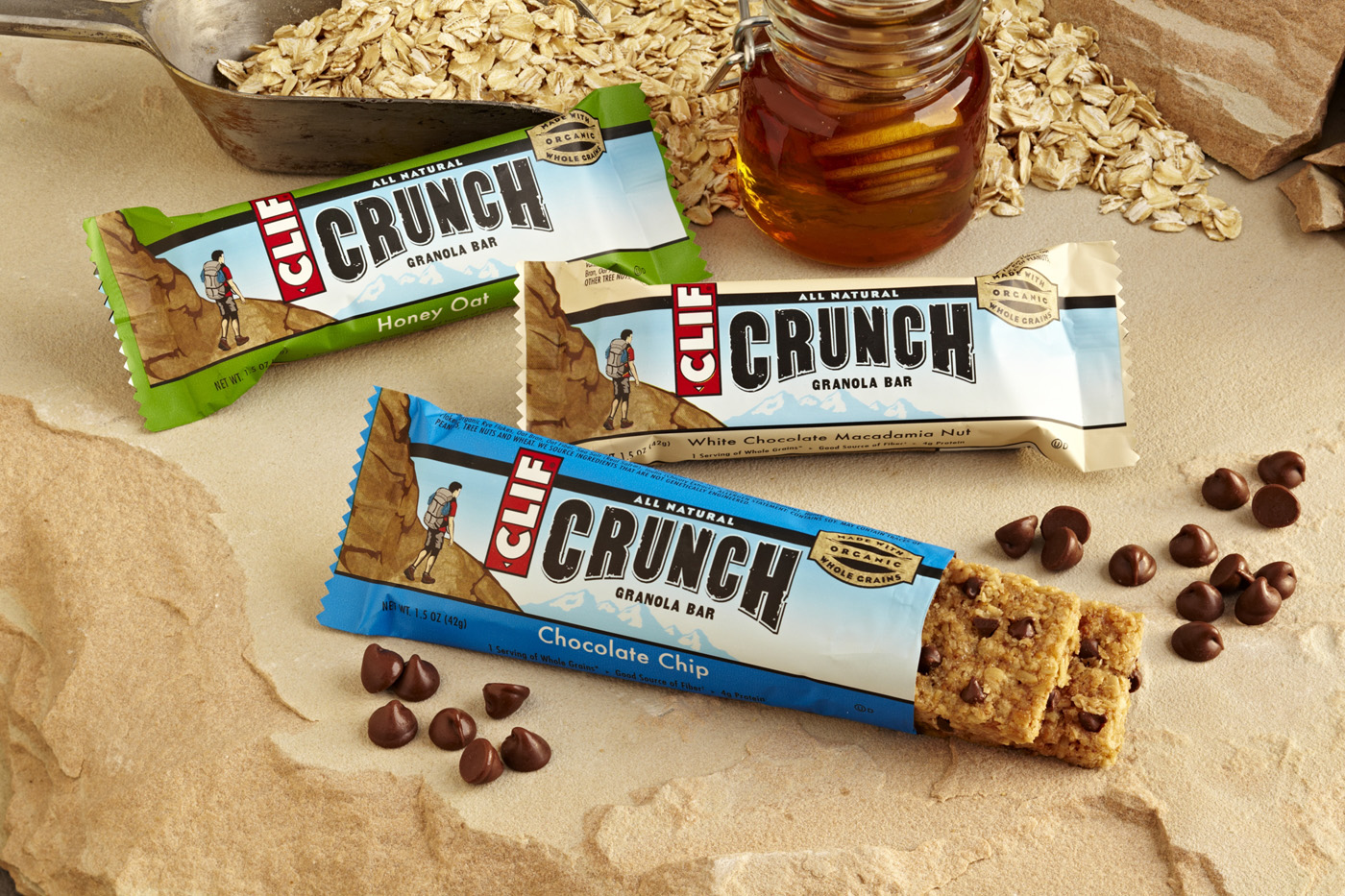 A ways back, I wrote to Clif asking them for a free sample of Clif Shot for a hydration review (to follow) not only did they send me some Shot they threw in a bunch of Crunch bars in various flavors. Having eaten my way through them, if you have been following my Daily Food Photo Diary you will have seen me post my fair share of them, it's time to post a review and better yet give some away!
So in time honored fashion from Clif's website:
CLIF CRUNCH ® is a new line of crunchy granola bars offering classic and original flavors made with all-natural and organic ingredients.
In addition to classic Peanut Butter and Honey Oat flavors, CLIF CRUNCH ® is first to make crunchy granola bars with creamy chips, and is bringing two all-new flavors -- Chocolate Chip and White Chocolate Macadamia Nut to the crunchy granola bar category.
I am sure you must have heard of Clif I am not going to get into a long description about Clif, you can find a ton of information on their website here and fellow Blogger Donald from Running and Rambling has actually been to Clif HQ in sunny Emmeryville, specifically to Crunch there is an excellent FAQ section on Clif's website.
And so on with the review…it's probably best to start with the entry level flavors and work our way up.
Honey Oat;. This is crunchy, naturally sweet with a really nice texture kind of flaky but with a hearty oaty taste, they actually go down really well dunked in tea (British tea that is)!
Peanut Butter; this is very similar to the oat flavor but has a distinct peanutty flavor, I am not a fan of things made to taste of other things, so peanut butter is ok and peanut butter flavor less so, but that's my issue
Chocolate Chip; Similar to the Honey Oat bars taste this is sweetened by the chocolate chips rather than the honey, a nice compliment and a little bit of luxury
White Chocolate Macadamia Nut; if Chocolate Chip was a little bit of luxury then this one is a truckload! Simply delicious and without going overboard this is really, really good!
Nutrition wise they do vary from bar to bar, this is driven, obviously by the ingredients, this is a nutritional label from the Honey Oat bar:
Available in boxes of 6 through Clif for $3.49 or from other on line sources, I have seem the in Whole Foods and I am sure you'll be seeing them permeate out into the marketplace in due course.
Now for the giveaway I have two boxes of mixed bars, that is one of each flavor to give away.
This is a nice easy win for someone and it's simple to enter. So all you have to do is follow the following and you'll be in the running for the prize which I will draw next Friday, there are several ways to enter and the more you do the better the odds:
Like, follow, become a fan of or whatever they're calling it this week on Facebook of Clif
Follow them on Twitter gets you one entry
Leave a comment on this post gets you one entry, tell me you have done the above will get you one or two more, that's three so far.
Finally all you folks on Twitter tweet the following will get you one more entry per day, this contest runs for a week so between now and next Thursday, that's seven more for a possible total of nine, I will pick a winner.
I just entered the win a box of @clifbar Crunch giveaway on the @quadrathon blog
Pretty simple really, watcha waiting for? Oh and after you've eaten them all, why not write a review…that seems only fair right?!?
These products were provided free of charge by Clif. See previous gear reviews in the sidebar on the right. If you have a product you'd like reviewed, contact me at quadrathon@gmail.com.